MINISTER OZER VISITED BAKU STATE VOCATIONAL EDUCATION CENTER
Minister of National Education Mahmut Özer visited Baku State Industry and Innovation Vocational Education Center as part of his program.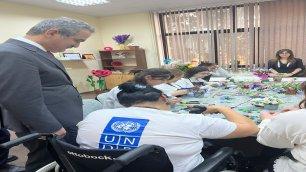 Özer visited floristry, costume design and ceramic workshops and got information from the authorities. 
Minister Özer then came together with the teachers who returned to Azerbaijan and worked in Azerbaijan after receiving education in their fields in vocational and technical Anatolian high schools in Türkiye. Özer also met with vocational education high school administrators and teachers in the teachers' room.
In his conversation with the teachers, Özer stated that they see Azerbaijan as 'One Nation, Two States' and that he is glad to be in Azerbaijan. Stressing that education is the main law of establishing strong relations between the two countries, Özer underlined that especially culture and education will continue to develop relations between the two countries with much more expansions.
Reminding that Türkiye has an education system consist of 19 million students and 1.2 million teachers, Özer noted that very significant investments have been made in the field of equality of opportunity in the education, especially in the last two decades. 
Stating that vocational education has become very strong with the transformations made in recent years, Özer said that the number of apprentices and journeymen in Türkiye has increased from 159 thousand to 1 million 400 thousand. Özer stressed Türkiye's success in this area by reminding that, the French Minister of Education informed him at the OECD Education Ministers Meeting that the biggest project of French President Emmanuel Macron on vocational education was to increase the number of people participating in vocational education from 300 thousand to 1 million, which was unsuccessful as it remained at 800 thousand.
Expressing that they plan everything together with the sector in order to provide the qualified workforce needed by the sector, Özer said that they students and teachers receive a share in proportion to the amount of their production as part of revolving fund in vocational education. 
In this context, Özer stated that they have decupled their production capacity in 2022 and reached 2 billion 335 million, which was around 200 million three or four years ago. He stressed that Türkiye has reached a great capacity in the field of vocational education in terms of patents, utility models, trademarks and designs, He also emphasized that they have increased the annual number of product registrations from 3 to 8 thousand 300 in 2022, and that 161 of them have been commercialized.
Stating that they established 50 R&D centers in vocational high schools with innovative approaches, Özer shared that vocational high schools in Türkiye are now starting to export. Stating that he is glad to share Türkiye's experiences with brother country, Özer said that they are ready to provide all kinds of support. 
Deputy Ministers Petek Aşkar and Sadri Şensoy, Director General of the European Union and Foreign Relations Hasan Ünsal, MEB Support Services General Manager Levent Özil, Director General for Teacher Training and Development Programs Cevdet Vural, Director General for Vocational and Technical Education Nazan Şener, Director General for Higher Education and Foreign Education Murat Süt, Baku Education Counsellor Ali Rıza Altunel and Türkiye's Ambassador to Baku Cahit Bağcı accompanied Minister Özer during the visit.