MINISTER OZER VISITED BAKU TURKISH MARTYRS MEMORIAL
Minister of National Education Mahmut Özer visited the Alley of Honor (Fahri Hıyaban), where the graves of former President of Azerbaijan Haydar Aliyev and his wife Zarie Aliyeva are located, in Baku, the capital of Azerbaijan, as part of his official contacts. Özer than visited the Monument of Baku Martyrs Hıyabani and Baku Turkish Martyrs' Memorial with the accompanying delegation.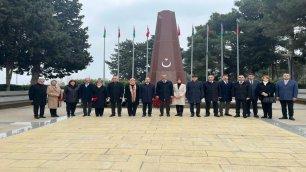 Minister Özer wrote the following in the martyr's notebook: "The Heroic Sons, August Martyrs of the Great Turkish Nation, 
We stand up before you to commemorate the epic heroism of the Caucasian Islamic Army under the command of Nuri Pasha and the sacrifices you made by fighting shoulder to shoulder with your brothers for the sake of Azerbaijan's survival.
This sacred struggle you have given has acquired an eternal nature in our hearts. Your names will always be remembered in this precious place of the capital Baku, just as the Azerbaijani brothers who were martyred in the Battles of Çanakkale are commemorated in Gallipoli with honor and respect.
Landing a hand to your brothers in Azerbaijan, you are the architects of this solid friendship that forms the basis of unity and solidarity between Türkiye and Azerbaijan. You touch the deepest bonds of the brotherhood of our countries, not of words but of deeds.
'Azerbaijan's joy is our joy, and her sorrow is our sorrow.' and the Türkiye- Azerbaijani brotherhood as 'One nation-Two states' will exist forever.
Soil is the 'motherland', if there is death for the sake of the land. I wish God rest all our martyrs' souls who fought until the bitter end and made this land "their homeland". On this occasion, I commemorate the cherished memory of our martyrs with respect and gratitude.
May God rest your souls."
Minister Özer's wife Nebahat Özer, Deputy Ministers Petek Aşkar and Sadri Şensoy; Director General of the European Union and Foreign Relations Hasan Ünsal, MEB Support Services General Manager Levent Özil, Director General for Teacher Training and Development Programs Cevdet Vural, Director General for Vocational and Technical Education Nazan Şener, Baku Education Counsellor Ali Rıza Altunel and Türkiye's Ambassador to Baku Cahit Bağcı accompanied Minister Özer during the visit. 
Making statements to the press after his visit to the martyrdom, Minister Özer expressed his condolences for the security chief who was martyred in the attack on the Tehran Embassy of Azerbaijan.
Stating that the Republic of Türkiye is very pleased to expand and strengthen its relations with Azerbaijan in all fields by "One Nation- Two States" concept, Minister Özer said that they are in Azerbaijan to strengthen cooperation on education and to increase its capacity. 
Minister Özer stated that they came to Azerbaijan with a very comprehensive delegation in order to move the existing relations to much better points. Stating that Azerbaijan and Türkiye will be very strong in supporting each other, Özer stated that as the Ministry, they would be happy to strengthen cooperation especially on vocational education and to share new initiatives and achievements related to digitalization in education with Azerbaijani brothers. Özer said very significant developments will take place especially in vocational education today.