MINISTER ÖZER VISITED DÜZCE TO EXAMINE EDUCATION INSTITUTION BUILDINGS AFTER THE EARTHQUAKE
Minister of National Education Mahmut Özer attended the Disaster Coordination and Assessment Meeting organized in the Düzce Governor's Office and observed school and other education institution buildings after the earthquake in the city.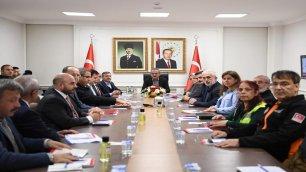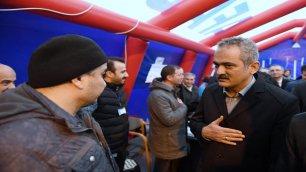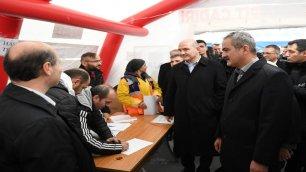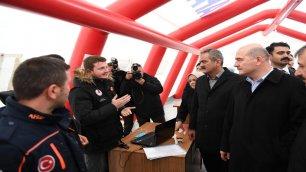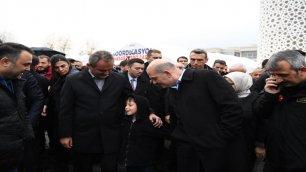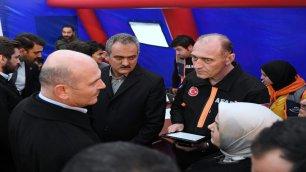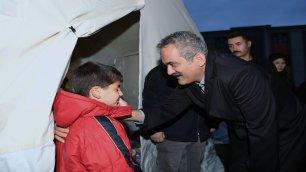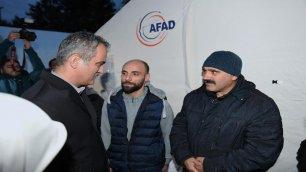 Minister Mahmut Özer answered the questions of the press after the Disaster Coordination and Assessment Meeting and wished quick recovery to those who were injured during the earthquake.
"We are happy that there is no loss of life in Düzce, Bolu and Sakarya. Governors, Ministry of Interior Affairs, the Ministry of Environment, Urbanization and Climate Change and the Disaster and Emergency Management of Authority (AFAD) coordinated rescue and relief activities and took all required measures right after the earthquake," said Özer.
Minister Özer said that after the November 1999 Earthquake in Düzce, the Ministry of National Education prioritized the reinforcement of existing school buildings and demolished damaged schools buildings and construction of new ones in the city.
Noting that 63 percent of schools in the city were constructed after 1999 and they are safe, Özer went on to say that, "Our Ministry has been reinforcing other school buildings and we are getting important support especially in the last two years. I would like to note that we did not limit investment budgets allocated to earthquake reinforcement of school buildings especially within this year. We saw during the assessment meeting that reinforcement of school buildings prevented possible negativities and our decision gave results."
Minister Özer stated that reinforcement of school buildings will be completed not only in Düzce but in the entire country until the end of this year.
Özer said that students of Cumayeri Secondary School, Hamidiye Şehit Özgür Işık Primary School, Turgut Özal Anatolia High School, Arsal Anatolia High School and Çakırlar Primary and Secondary School will continue their education at the nearest schools and the Ministry will transport the students of these five schools for free.
"Education will begin on December 5 at schools in Düzce"
Minister Özer stated that the Ministry has founded a support mechanism to transport students to other schools for free.
"We will give you a free lunch. We will decide if we are going to reinforce or demolish damaged school buildings after the assessment report. We will continue to support our students until we normalize the situation.  We had decided to close down schools for a day in Bolu and Sakarya and for three days in Düzce after the earthquake. We will close down all schools in Düzce for the next week in order to finalize damage assessment reports of school buildings and give guidance services to students, teachers and parents. Education will begin on December 5 at schools in Düzce," said Özer.
Özer stated that the state is supporting people with all of its ministries and institutions adding that his Ministry will also give all kinds of support to children and provide the safest education environment.
Minister Özer and Minister of Interior Affairs Süleyman Soylu visited the Disaster Coordination Center and tents were installed for earthquake victims.
Minister Özer and the accompanying delegation made observations at the construction site of Kasım Aktaş Secondary School in the Aziziye neighborhood.
Deputy Minister Sadri Şensoy and Director General for Construction and Real Estate Umut Gür accompanied Minister Özer during his visit to Düzce.